If one day you trek from Namche up to Gokyo or the Everest base camp, you will meet a man, sitting in a chair next to a donation box and two big blackboards, where he explains what he does and why he asks for money.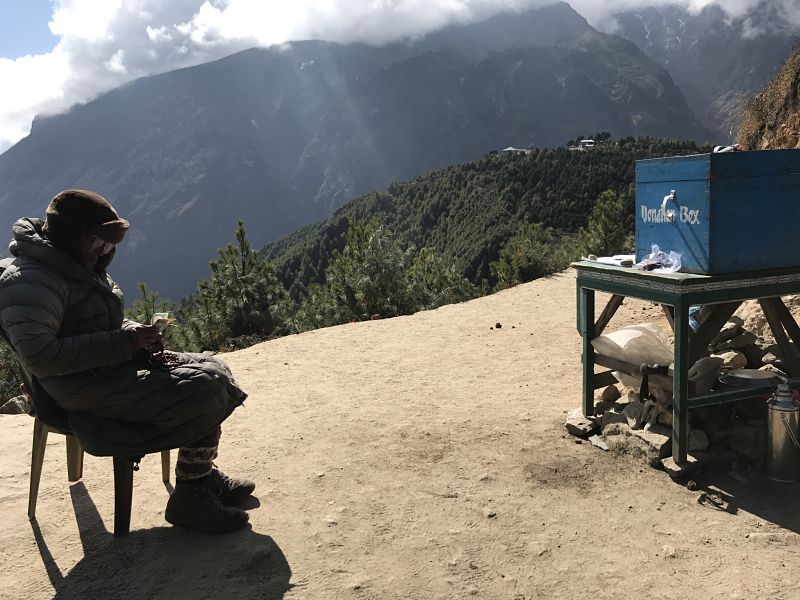 He is Pasang Sherpa, known as Lama Seru. He is 81 years old and still works with passion for the improvement of the trails that, from Namche upwards, reach the foot of the Sagarmatha (Everest). Hi has been done it on a voluntary basis during the last 35 years and he still continues to do it in spite of his age and that he cannot see or hear well.
He has earned a good reputation for his dedication to improving Khumbu's trails. He has done it with his own work and with the donations of the visitors. He started repairing and improving a 14-kilometer long trail from Dingboche to Phungi Thenka, passing through the Tengboche monastery, and a 5-kilometer-long trail from Pheriche to Everest base camp.
Just some days ago he has finished the construction (or repair) of the trail from Phungui Thenka to Namche, which is about 6-kilometer long. During these years he has also built 16 resting areas along these trails and even a chorten (stupa, in Nepali).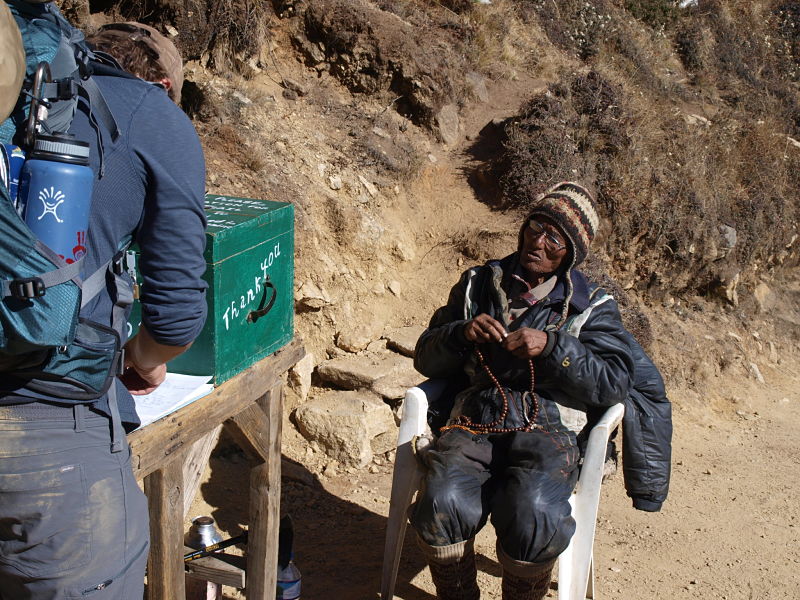 I met him for the first time in 2002 much far away than now but I didn't realise really what he was doing. 12 years later, in 2014, I met him again at the beginning of the flattest section of the trail before arriving to Namche, with the same blackboards than now. And the last days he was sitting close to Namche. As it was his hope, before the winter arrival, he has ended the reconstruction of this long trail.
The story of this man begins when he was 18 years old and for the first time, he joined a trek to the Everest region. Then he already realized the bad condition of the trails and how dangerous were, for tourists and locals as well. A few years later he left the trekking jobs to dedicate his life to improving the trails that go to Everest. He first lived in a tent until he later married Lakpa Yangji, from Khumjung, and since then they live in a rented house at the outskirts of this town.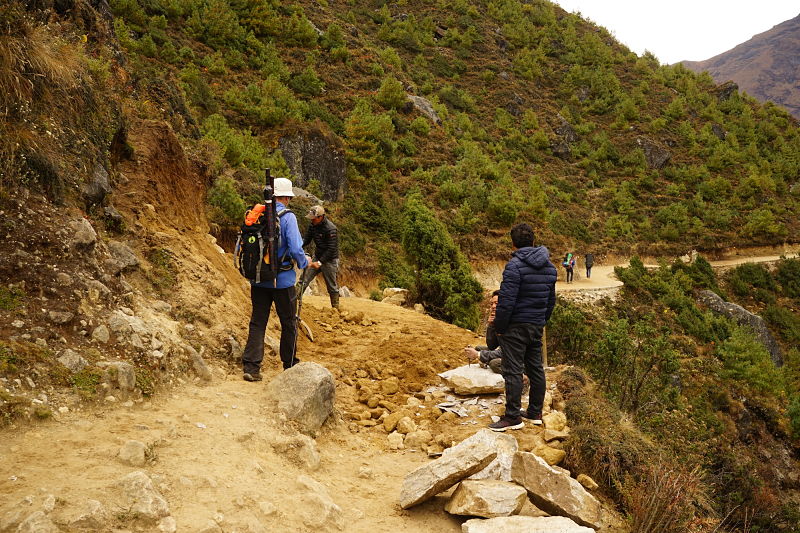 At first, he was the one who did the work but later, due to his age, he started to hire workers. Although he is very old, he says he feels strong enough to continue this task, as he says, until at the end of his days.
Two years ago, he was distinguished with the Nagarik Nayak (Nagarik Heroes) 2017 Award, which is given annually by the Nepalese newspaper My Republic, for its three decades of efforts to improve Khumbu's trails, what has saved lives of people and cattle that walk there.
His main concern, however, is whether the administration will take over of his job to maintain these trails once he is no longer.
When I was writing this post, I learned that when the repairing of this last section of the trail was finished, he fell seriously ill and he was evacuated by helicopter to the village of Salleri, located in the lower part of this region, where he was born and still have a home. This is where he is currently recovering from the disease and we all hope to see him again sitting on the edge of some trail, continuing this job that is so enthusiastic.