One of the important changes I learned during my project is about infrastructure and health related services, in the area of ​​Khumbu Pasang Lhamu Rural Municipality (KPLRM).
Compared to other remote areas of Nepal, this area currently has a good level of health facilities. However, it is still a very basic level if we take into account that about 10,000 people live there and 60,000 more visit it every year.
Until the early 1960s, there was no place for medical care. The people here relied only on traditional medicine based on medicinal herbs or spiritualist or religious practices to cure diseases.
It was not until 1966 that Edmund Hillary built the first hospital in the village of Khunde. Thanks mainly to the various foundations working in the area, half a century later they already have 2 small private hospitals, in Khunde and Lukla; 3 basic precarious public care centers in Namche (4), Pangboche (5) and Chheplung (6); 4 private, slightly better equipped, in Thame (1), Phortse (2), Monk (3) and Namche (7); and 3 more also private, specialized in mountain medicine, in Pheriche (8), Machermo (9) and Gokyo (10).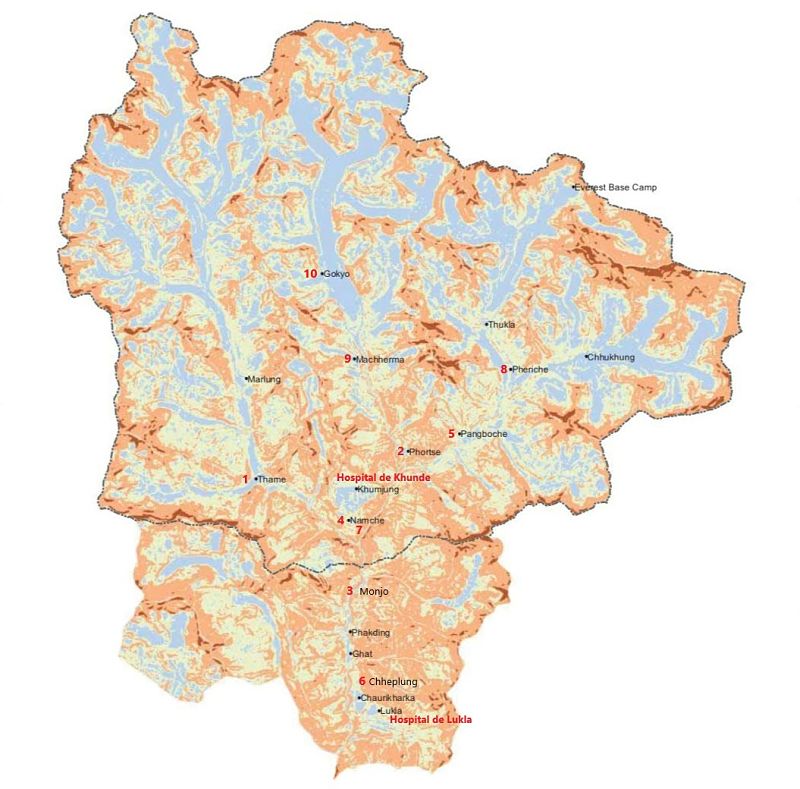 To put health services in context in this area, three factors must be taken into account: the large area of the territory (1,539 km2), the lack of communication routes and the imbalance between the inhabitants (10,000) and the visitors (60,000). ).
THE HOSPITALS
In 1966, the Khunde Hospital, at 3,900 m, was opened, and it was not until 39 years later, in 2005, that the second one was opened in the village of Lukla, at 2,800 m, right next to the small airport. Both hospitals are private and were built and funded by two non-profit foundations.         
According to recent reports, construction work is about to begin for the first public hospital, in the village of Chheplung, a half-hour walk from Lukla, which will be the largest in the area. It is expected to open in 2020.
The two existing hospitals are small, with 15 beds in Khunde and 25 in Lukla, but enough for the type of activity they do. In fact, according to the hospitals themselves, they are rarely filled. In Khunde they are basically used by the women who go there for children delivery, and in Lukla they are only full of during the tourist season.  
Another common feature is that the professionals who work currently there are locals.
There are three aspects I want to highlight about both hospitals. One is that, due to the size and number of patients they care for, they only perform surgery of very little complexity and complex cases are sent to Kathmandu.
A second aspect to highlight is the radical change it represented for women during the gestation process and especially during childbirth. Care during pregnancy and the possibility of waiting for the time of delivery in the same hospital, especially for women who live many hours on foot from the nearest hospital. This has increased the success of childbirth and helped greatly to reduce infant mortality.
The last aspect I want to highlight are the public health services and programs, family planning, vaccination, health education (prevention), prenatal and childbirth, offered by hospitals in a territory where half a century ago they had no health infrastructure or services.
HEALTH POSTS
Today there are 7 small health posts, 3 public (Namche, Pangboche and Chheplung) and 4 private (Thame, Phortse, Namche and Monjo), scattered throughout the territory, so that all permanently inhabited villages have one in the same village or in the next one. It's like a small safety net for the locals, although some are very precarious.          
Medical care is provided by doctors in 4 centers and by paramedics in the other 3. They all have a stock of medicines to supply directly to users, as there is only one pharmacy in Namche.
In the case of public health centres, there are two recurring problems. One is the difficulty of finding professionals who want to go to work there, especially the most remote ones. And the other is the limitation of available drugs.
A paradigmatic example is that of the village of Pangboche. It is run by a single doctor, who was sent there by the government 5 years ago, with 4 other professionals who never arrived there or left shortly afterwards. This forces him to be available 24 hours a day, every day of the year. And he does, but how long will it last?             
MOUNTAIN HEALTH POSTS
They are centers that, due to their function, are located in places not permanently inhabitedi, very remote and at a high altitude. They are located in Pheriche (4,371 m), Machermo (4,410 m) and Gokyo (4,750 m).
The common characteristics of these centers are that they specialize in health problems related to altitude sickness, only the tourist seasons are open, they are managed by non-profit organizations, the staff who work there are volunteers (mostly foreigners) , and are paid for by tourists and almost free for locals.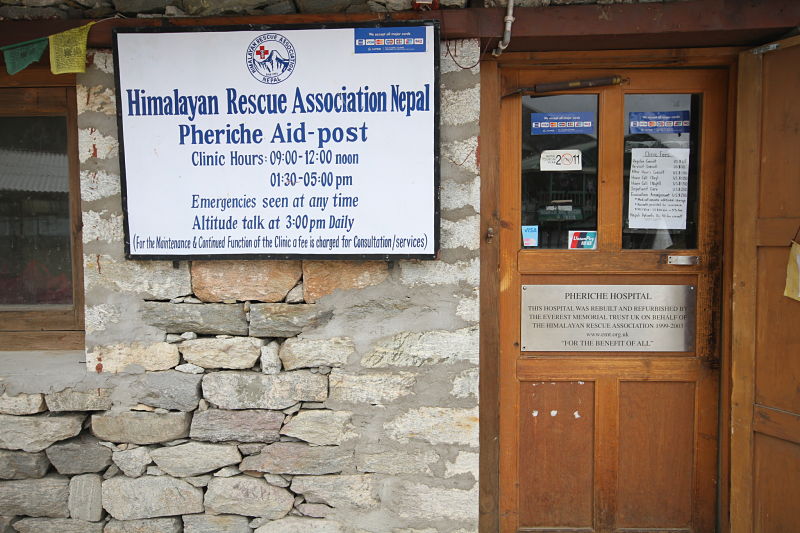 In addition to general and specialized medical care, they hold a free informative and preventive sessions every day on altitude-related health problems. Every year between 800 and 1,000 people attend each center.
CHRONOLOGY OF FACILITIES CREATION
1966 – Khunde Hospital (private). Built by Edmund Hillary, and currently funded by the Sir Edmund Hillary Foundation (http://thesiredmundhillaryfoundation.ca)
1970 – 1999 – Thame, Phortse and Monjo Basic Health Posts (Clinics). They are private and depend on Khunde Hospital.
1970 – Namche Health Post. It's public.
1973 – Pheriche Mountain Medical Center (aid post). Built and managed by the Himalayan Rescue Association (https://himalayanrescue.org.np/)
Late 1990s – Pangboche and Chheplung health posts. They are public.
1991 – Namche Dental Clinic, in Namche (private). Built by the American Himalayan Foundation (https://www.himalayan-foundation.org)
2003 – Machermo and Gokyo High Rescue Centers (private). Built and managed by Community Action Nepal (https://www.canepal.org.uk/)
2005 – Hospital of Lukla (private). Built and funded by the Nicole Niquille Foundation (www.hopital-lukla.ch) and the Pasang Lhamu Foundation (www.pasanglhamufoundation.org)
2017 – Mountain Medical Institute in Namche (private). Built by the Um Hong Gil Human Foundation
---