Today I want to tell you a curious and surprising fact that happens every year in the village of Dingboche.
Dingboche is a village located on flat ground, sheltered from the winds and very sunny. It is at 4,350 m. of height, only to 2 days, walking, to the Everest Base Camp and when somebody does a trekking, it is ideal to remain 2 nights to achieve a good acclimatization before climbing until the 5,300 m of Everest Base Camp or the 5,600 m of the "small" peak of Kala Patthar.
It is a village made up of lodges, hotels, cafes and some houses dedicated to agriculture and livestock. It is surrounded by many small fields, all enclosed by stone walls, dedicated to the cultivation of potatoes, buckwheat, and grass to feed the animals.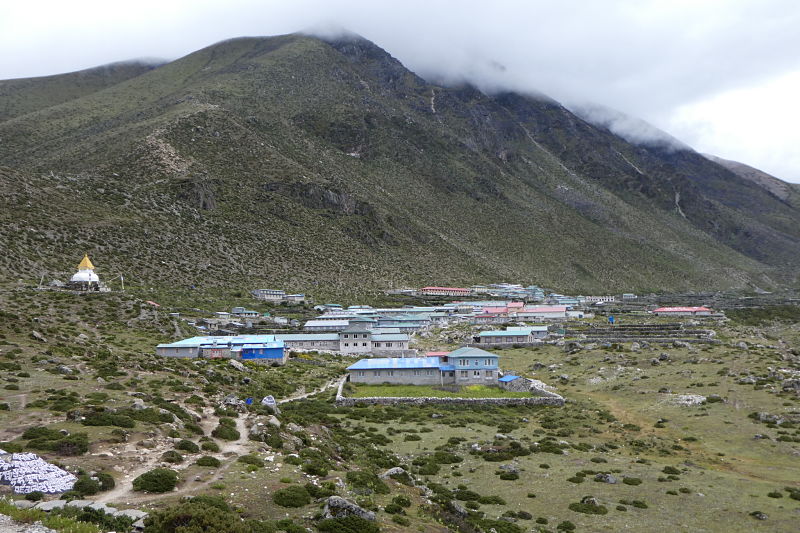 As you can imagine, today it is a village living mainly from tourism, but despite this, from mid-July to early September it is a "locked" village, where any activity can be done. All buildings must be closed, and no construction, farming or livestock work can be done.
We went there in early September and I can assure you it made a weird feeling. A village with most buildings in good condition but all literally locked, and without a single person on the street.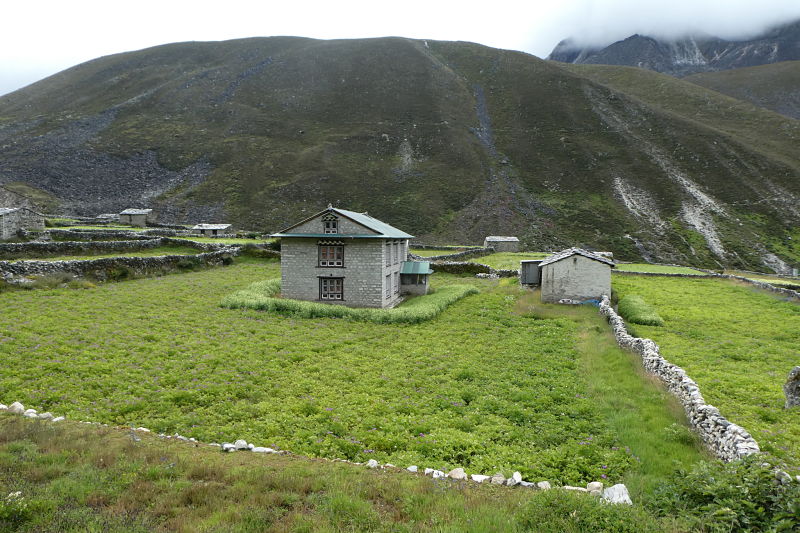 In the surrounding fields there was no one working either. The works were stopped, and we saw a lodge under construction that started it two years ago. Not being able to work during this month and a half of summer, which is when they can work the most here, in this town the works take much longer.
A century-old rule
Like me, you're probably wondering why it is still in force. Well, more than 100 years ago, when there was no tourism, and in this plain mainly black barley was cultivated, the inhabitants of the village, greatly influenced by the monks of a nearby monastery, adopted this rule to protect this crop.
Black barley is native from Ethiopia and has been grown in the highlands of Nepal for centuries. It was, and is, much appreciated for its nutritional value and because it does not need any kind of processing. It can go directly from the field to the table. But it turns out that it is a crop extremely sensitive to any type of contamination, whether smoke, waste or any other human or animal activity. This is the origin of this ancient rule.
Currently, however, this rule has lost the sense because, as some residents of Chhukung, a village above told me, two years ago only three neighbours planted black barley and this year, none!
Despite this, the rule continues to be applied, although, according to these same neighbours, more and more people are against it and some already think that it should be abolished. When this will happen, if it happens, we will have another example of how mountain tourism is transforming these valleys.
A committee of 3 people is appointed each year to monitor the rule compliance, two from Pangboche (which is where most of the people who have lodges or land in this village come from) and one from Dingboche. Failure to follow the rule will result in a penalty.
However, on our way back down Dingboche, we went down throughout a higher path and saw two or three people working hidden behind a building.
Forced vacation
And what about people? So, during this time that the village is closed, some of the people go to live in a village with a few very precarious buildings, located a little higher.
We also found 4 or 5 tents in a meadow above the village, with people living there all this time doing nothing, waiting to be allowed to go back to the village.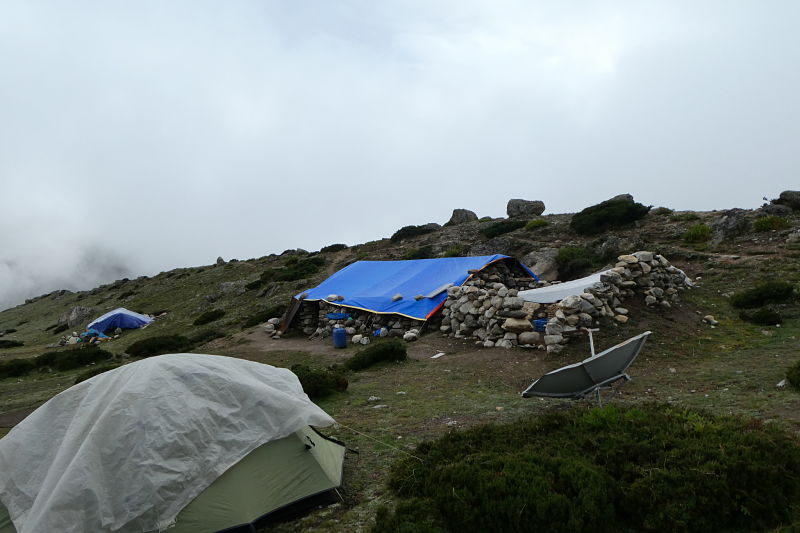 Most go to Pangboche, Khunde or Kathmandu, and those who may afford it, take the opportunity to take a trip.
Other rules for crop protection or regulation
This is not the only crop protection rule. In the villages of Thame, Khunde, Khumjung and Phortse, the tradition of the Sherpa people to protect crops, as agriculture here has many limitations, is done by another fully justified and not so drastic rule (Dee).
During summer months, there can be no cattle in or around these villages, so they cannot enter the fields and damage the crops. Cattle are taken to the highlands where they have many green meadows to graze. Each village has its own monitoring committee for compliance with the rule, like Dingboche, and sanctions for those who violate it.
In the valley up towards the Everest Base Camp, they also have a rule for cutting and drying grass, which will be used as food for the cattle during the winter. They start with the ones below, and week by week they advance up the valley.
It is Dingboche's turn to cut the grass (this year it was September 11) when the village reopens and recuperates activity and life.
And, until next summer!