Nepal is a country that depends quite of tourism and especially some mountainous areas where the economy depends almost solely for tourism.
In the municipality of Khumbu Pasang Lhamu Rural Municipality (KPLRM), the two areas of Lukla on top, Pharak and Khumbu, are those that benefit from tourism. Instead the Shorong zone (or Solu) between Lukla and Kharikhola reality is completely different. For this reason, last December, I wanted to take the downhill trip from Namche to Kathmandu, to make a good part of what is usually done by plane and know what life is like in where tourism has almost no presence.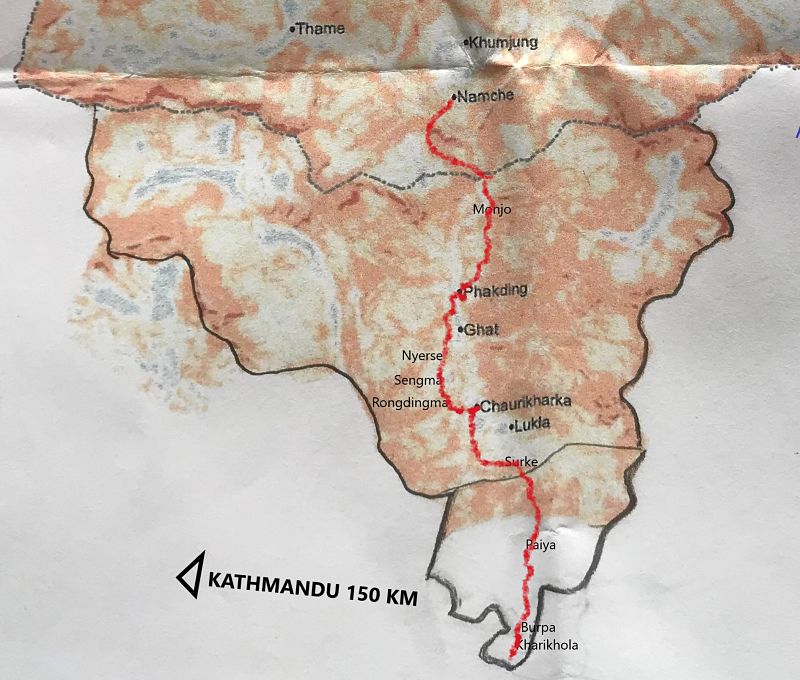 THE CURRENT SITUATION
With this aim, my friend and guide Pasang and I went down walking from Namche to the village of Kharikhola so I could know first hand the only area where I had never been. In the village of Phakding we left the path that goes straight to Lukla, to cross the Dudh Koshi River by an old Hung bridge and we followed the old path used by both the local people and the first expeditionary groups and the treks, before the small airport of Lukla was built in the year 1964. A very recommendable romantic tour.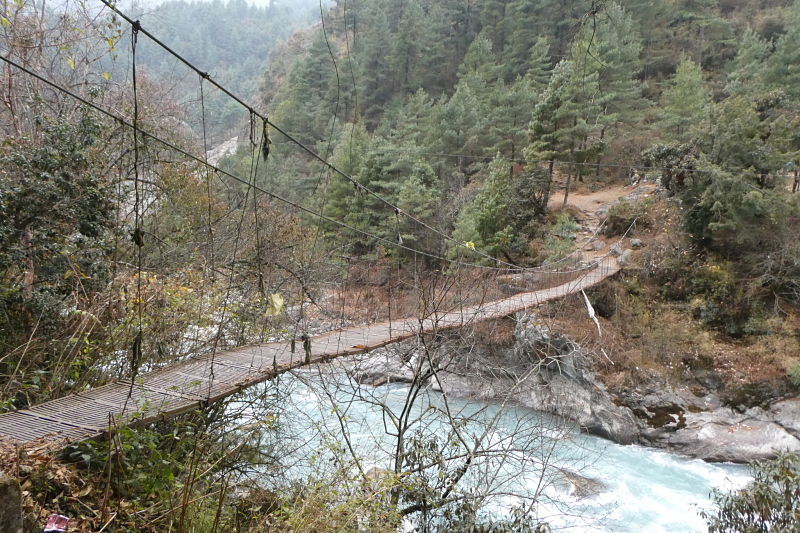 This road brought us first to the villages of Nyerse, Sengma and Rongdingma, where I could see the difference with the tourist towns. Here people live in an agriculture that is not very varied and quite rudimentary, with little cattle, basically for self-consumption and for doing the field work. There is no trade or services. Until 10 years ago, Rongdingma had a small school, but now it's closed. Therefore, the inhabitants of these villages, for anything must go to Chaurikharka or Lukla by crossing the deep valley of the Dudh Koshi River.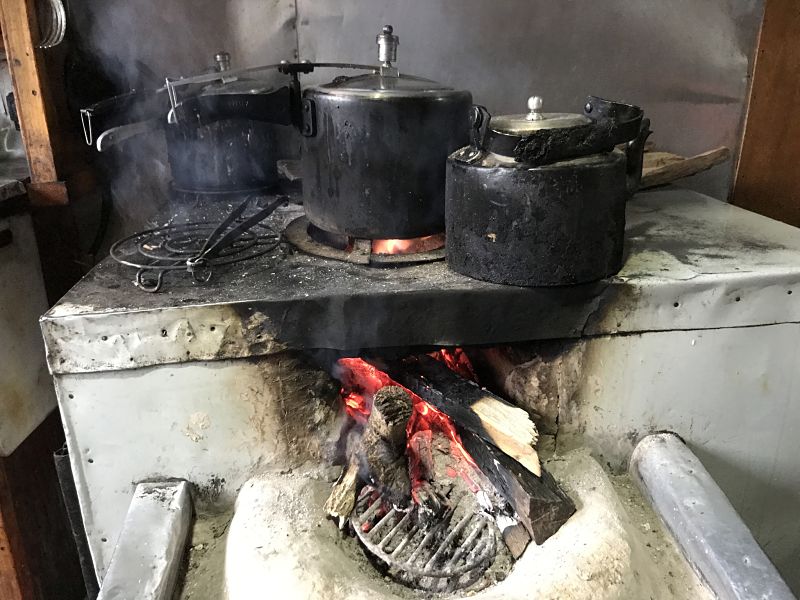 We did the same and a Arrived to Chaurikharka we continued our way down, following the Course of the river, but with enough climbs and descents. For 3 days we went through By the peoples of Surke, Paiya, Burpa and finally we arrived in Kharikhola, Which is the village located below (2,100 m) and further south of the Territory (the KPLRM) Where I develop my project.
Unlike the first three villages, these four are located on the path that is currently used to move to the upper areas of the Khumbu. These villages, initially agricultural, during the years 1950 and the first half of the 60 benefited from the passage of the first expeditions and Trekkings, built lodges and camping sites, and began offering services. All this represented a significant improvement in the life and economy of this area.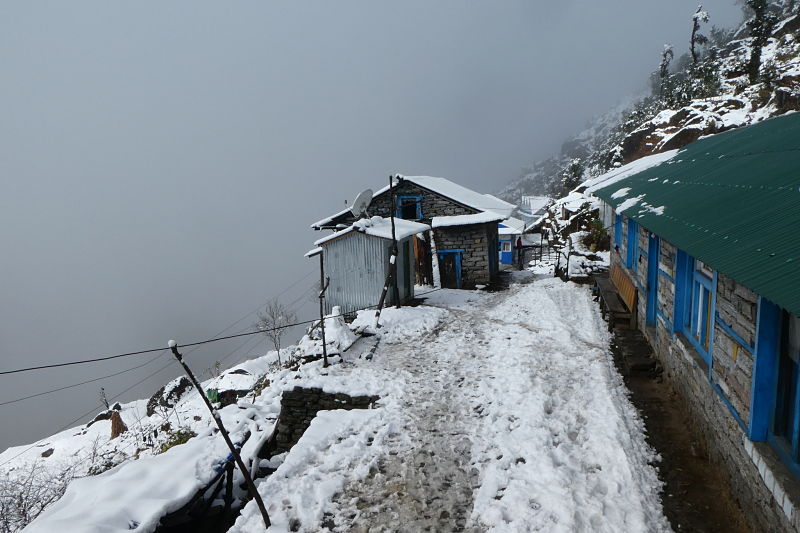 It was thus until the year 1964 when it was built the Lukla airport and tourism ceased to go through these villages with the consequent loss of income of its inhabitants. It is true that the hosting infrastructure that had been created was maintained, but reoriented to local customers and therefore adapted to lower demands and economic possibilities.
Given that the orography of this area is smoother and allows for good use of the land by organizing it on terraces and many varieties of fruit, vegetables and cereals can be cultivated, we might think that agriculture and livestock would have been able to become the economic engine, although smaller than tourism in this area. But this has not been the case. The main reason is the change that has taken place in the market for agricultural and livestock farming products in the last decades. The construction of roads, nor that they were of land, that increasingly arrived closer to this area, facilitated that they arrived products from other places with what their natural market broke.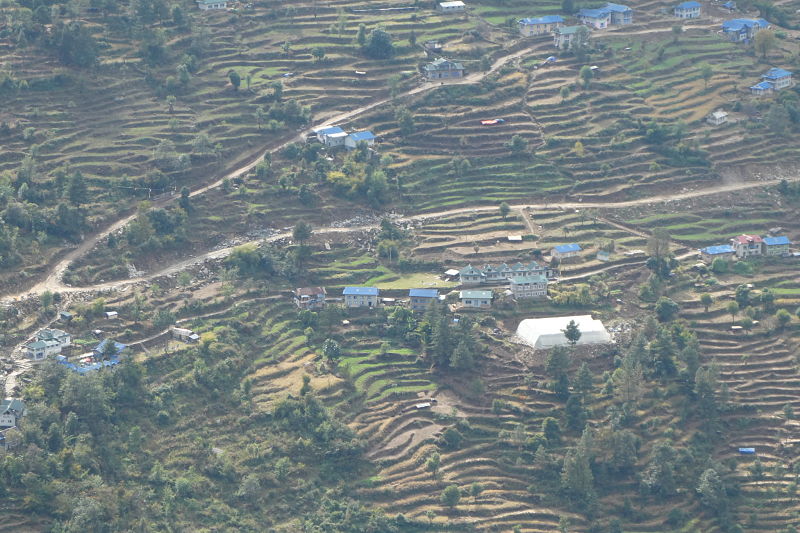 The result is that today Local primary sector has no market and only small family farms For self-consumption and a local trade. Many farms were abandoned And their owners migrated to Kathmandu or abroad.
In spite of this situation there is a significant positive aspect to point out. It is a commitment to education, which I already explained that existed in the areas above, which has remained here. On our tour we found two small schools, one at Surke and the other at the top of Kharikhola, two more stockings in Paiya and Burpa and a large one with all levels of primary and secondary in Kharikhola. All this for a population that does not reach 2,000 people, but dispersed in a very large area.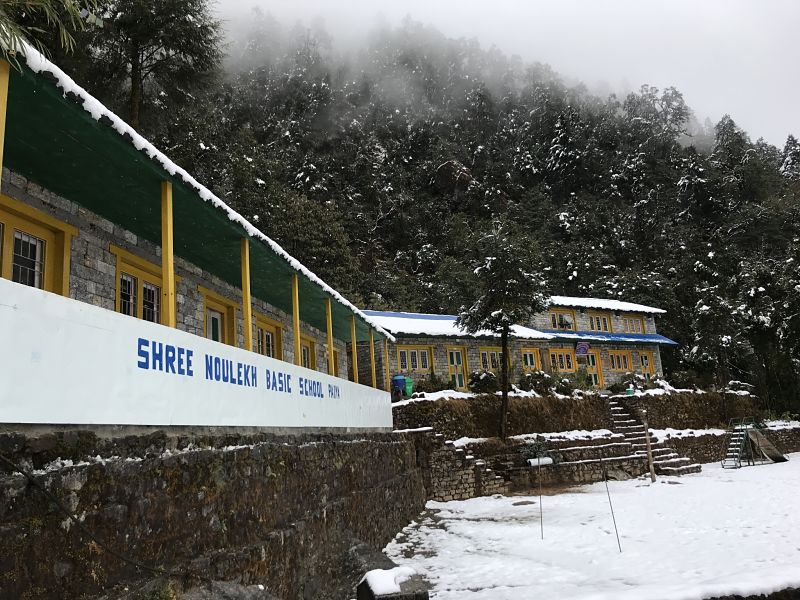 In contrast, the infrastructure Can not say the same as it is almost nonexistent. The only Infrastructure, the Kharikhola hospital disappeared with the Earthquake of 2015 and the construction works of a new hospital long ago are stops. There is a small provisional hospital where there is not always a doctor. Therefore the people here, if they have a health problem a bit important, have From going to Kathmandu that the road now reaches to Kharikhola "Only" to 17 hours in Jeep by roads largely of land And those who are asphalted are in a deplorable state.
So far the reality of a life I've been able to observe on my way down from Namche to Kharikhola.
A VERY HOPELESS FUTURE
Some will remember that in the post No. 7 He spoke of building a road from Kharikhola up to Chaurikharka. They are well working. I could see great machines Unresolved through an impossible terrain, very steep, with a lot of rock but Also with parts prone to landslides. The forecasts are that it is For the unpaved moment, the next month of July. I do not think it is So few days ago I could see how far they had advanced in two months and I doubt that in July you can finish. But if it's not July it will be a little Forward.
The tourism sector, by Chaurikharka upwards, is happy with this road, as it will greatly facilitate the access of tourists who now depend on the small Lukla airport severely punished for the climate of the area.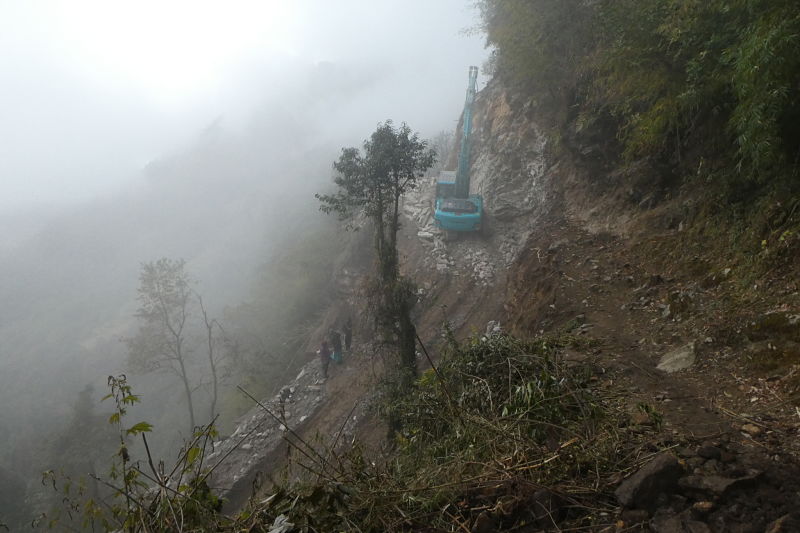 But Chaurikharka is down, Although they recognise that having a road is an improvement and unquestionable for their daily life, people in general are not very Negative impact that they believe will have on the Minso business of the Tourism. The people with whom I spoke coincided in that the few people That now stops in the places of food and sleep, with the new road will go Up to Chaurikharka in a single day, no need to stop or To stay anywhere. In other words, after the negative impact Had Lukla airport, the road will surely have a negative effect Even bigger.
As you have seen, the areas with And those that do not have them, coexist next to each other but are Two completely different worlds and my conclusion is that in these areas, Everybody looks at tourism as the most accessible outlet for a better future.
And as the Xerpes, however, are People with a great ability to adapt to changes, as they have already demonstrated Times, those in this area will have to reinvent themselves, as is now called, Seeking proposals for alternative tourism to the expeditions and long- Height trekkings. And I'm sure they will leave.