The Sherpa Life project continues from home lockdown
Just two weeks ago I sent you the last post I wrote, still from Namche, telling you how the crisis of COVID-19 affected the Everest region. I could hardly imagine then that a week later I would be heading down to Kathmandu, in a hurry, to try to return home as soon as possible and ending my stay in Khumbu three months earlier than scheduled. This was what I told to all my blog subscribers in a short message sent on March 20.
The project will be fully developed between my friend and guide, Pasang, and me. He from Namche and me from home. I still have a lot of material to work and share with all of you and with the help of Pasang I will be able to finish it. It will not be as planned and we would have liked to have done it, but we had to adapt to the circumstances.
These two weeks have been for everybody, and for me, 15 days of vertigo in which events in many countries have developed very fast changing the situation in each country hour by hour. And so it continues, day after day.
It was a bit of a surreal escape as I was leaving a country with a single registered contagion to a country where the number of infected and death were counted by thousands. But it was a go back home and it was more important than anything else.
There were no known coronavirus cases In the Khumbu area, but the effects of the damn virus were still there. In a few days I saw and experienced how the beginning of the spring season turned to a suddenly stop of trekking and expeditions.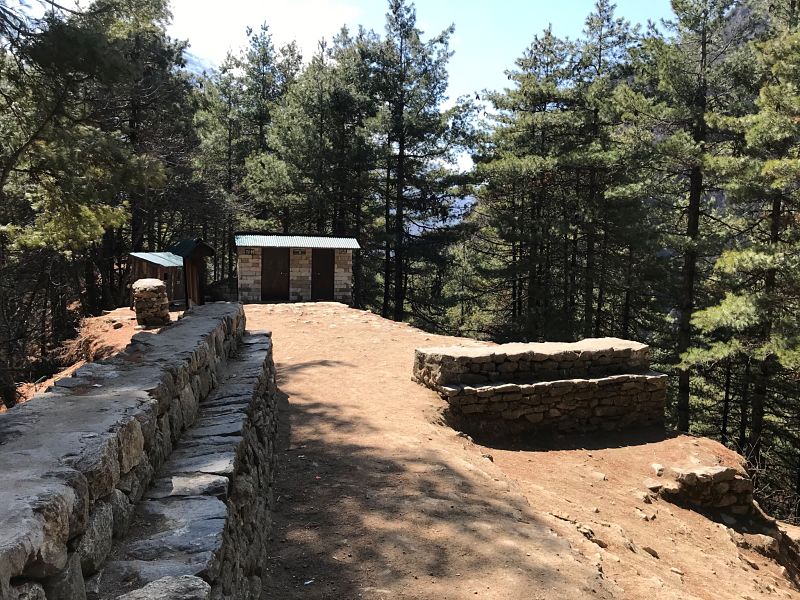 Namche had been emptied of tourists and workers who had arrived by the beginning of the season. Even "my" barber, when I went to cut my hair and beard the day before leaving, told me that the next day he was returning to Kathmandu because he had no longer work there.
The day I got off from Namche to Lukla to catch the small plane that had to take me to Kathmandu, I only met 5 tourists going up. Less than in any winter day. All the other people I met were locals. I also found some mule caravans carrying supplies up to the Khumbu, which by now may have disappeared completely. All in all, a bleak picture.
On the way and with great surprise and happiness, I met Lama Seru and his wife (see post 13 – http://sherpalifeproject.com/en/lama-seru-una-vida-dedicada-a-millorar-els-camins-de-leverest/), already recovered from his serious illness, who were heading, just for prevention, to the lower part of the Solukhumbu district. Greetings, exchange of good wishes and selfie.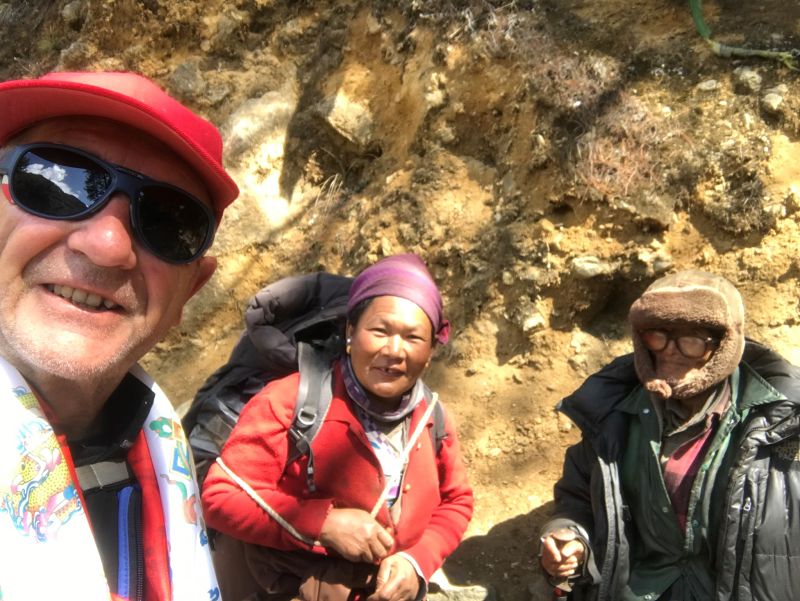 Arriving in Kathmandu early on Sunday morning, I realised that the traffic was very smooth and calm, and there were far fewer people than usual on the streets, in a country that lives on the open air. The lockdown had not yet been decreed, it was only a recommendation from the government to people stay at home.
At those moments I did not know if I could leave the country or I would have to stay indefinitely. It had been days since when no foreigner or Nepalese could enter, and the government had just declared a suspension on all international flights, both in and out.
I an earlier visit to the airline's offices to whom, before leaving Namche, I had bought a ticket to travel to Barcelona, ​​I was noticed that a slight modification of the suspension order for international flights departing the country, it had temporarily left its void. No one, however, knew how long it would last.
Early visits and long queues at the offices of the few airlines still operating in Nepal, where foreigners tried to confirm their flight or buy a ticket. Tickets that doubled their price every 12 hours. Some reached 10 times their usual price. Finally, in the evening, a call from the airline confirmed to me my flight for the next day and gave me the information to get in the airport. Everything seemed to indicate that my trip back home was on the right way.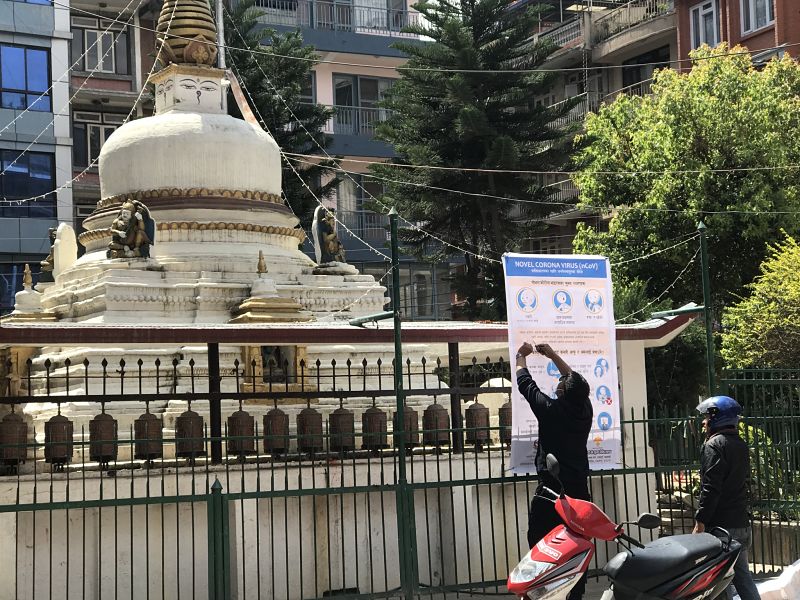 On the day after it had already been decreed to close all activities except the essential ones. This left some unusual pictures of the Kathmandu centre, with its empty streets and closed shops. An image that only the curfews had achieved in the last days of the monarchy when trying to stop the Maoist guerrillas, which, by the way, now are part of the country's government.
One detail. The streets of Kathmandu, as in other cities of similar countries, usually are plenty of people insistently offering you all kinds of objects. In the two days I have been there, I don't think than more than two or three approached me.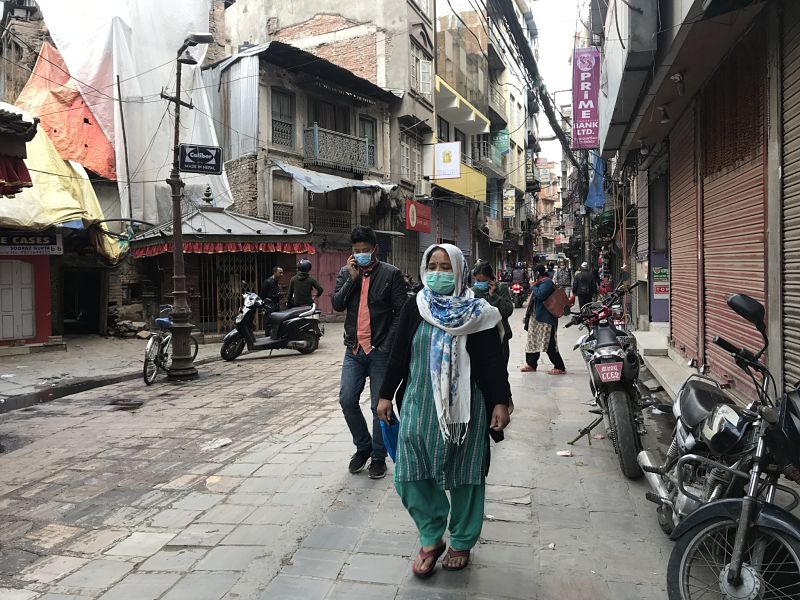 On Monday, it leaked the news of the second recorded case of COVID-19 in the country, prompting the government to decree the immediate country's lockdown, closing all borders and suspending all domestic and international flights, from Tuesday morning. I read this in the newspapers when I already was in Doha airport (Qatar), during the flight stopover to Barcelona, so I couldn't see the effects, but I can imagine.
Of course, these effects haven't to be the same in the most populated towns and areas than in the remote villages I visited during the months I have been living there. I can't imagine the villagers being locked up at home without going outside. Those engaged in tourism do not have a job but there are other agricultural and livestock jobs to do. For example, now is time to plant potatoes, the main crop in the Khumbu area. When they have other jobs during the tourist season, they hire workers from other parts of the country to help with agricultural work, but this year they will not need them. They will do it themselves.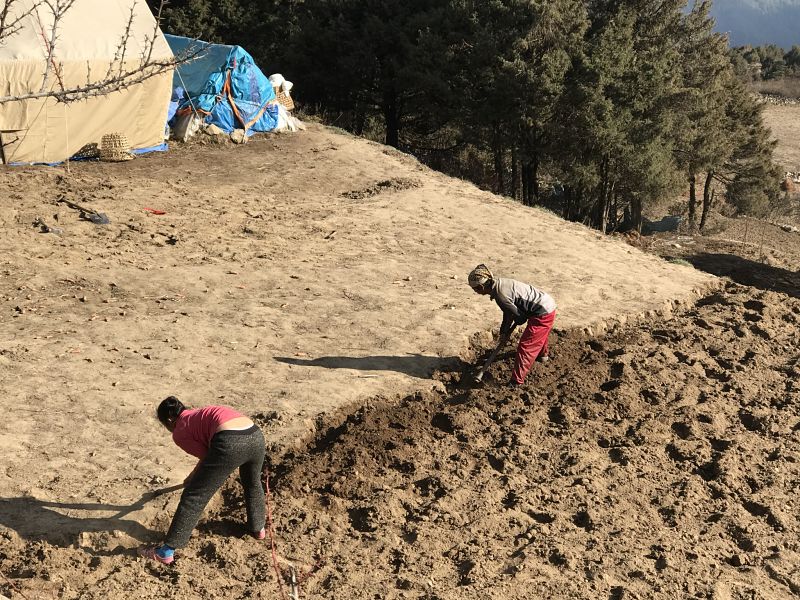 Finally, I arrived home on Tuesday 24th thanks to being able to take advantage of the open  " window " for international flights, that only lasted 24 hours. I was saved by a narrow escape of being stranded in Kathmandu "sine die", because the flight suspension has been extended at least until April 15th.
All this was taking place in a country that, today (March 31), has officially registered only 5 cases of COVID-19 and has adopted the strategy of isolating itself from the outside to try to avoid the virus entry and spread, aware that with their weak health infrastructure it would be very difficult for them to cope with an emergency like the one we are experiencing in here. I wish them all the luck in the world.