In the post Keep the Khumbu Clean, posted on August 15th, I told about the Sagarmatha Next project, which includes a very original initiative to transfer to Kathmandu, free of charge, the non-organic waste of Khumbu.
A few days ago, the pilot test of this initiative has finished, and it seemed interesting to me to write a review on it.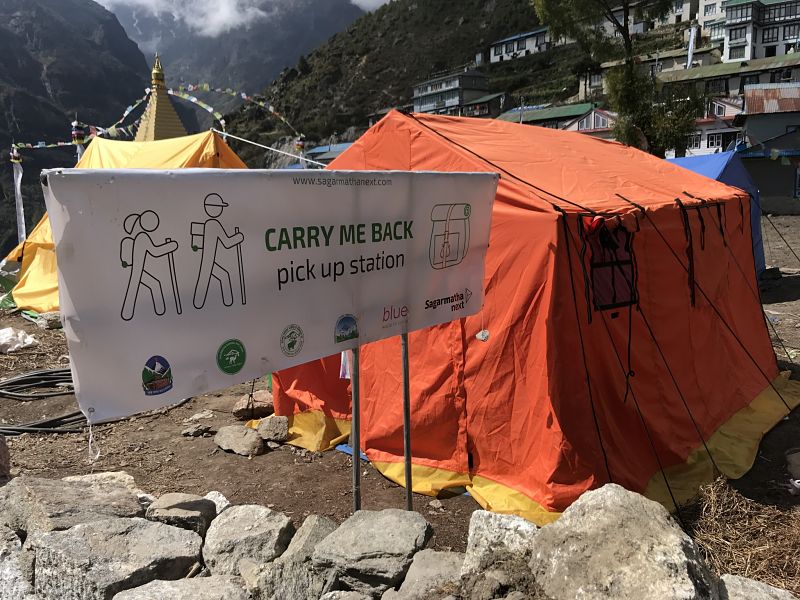 The initiative CARRY ME BACK
The Sagarmatha National Park receives approximately 60,000 visitors each year which, together with their guides and porters and the approximately 10,000 inhabitants of the area, are estimated to generate every year some 250 tonnes of waste. 150 tons of these waste are non-organic and here there is not any treatment system.
If most of the visitors, guides and inhabitants of Khumbu who go down to Lukla and Kathmandu would carry between ½ kg and 1 kg of these waste, it means that almost 50% could be carried to Kathmandu without any cost. This is the challenge of CARRY ME BACK.
The pilot test
From October 15th until November 30th, Sagarmatha Next (www.sagarmathanext.com) in collaboration with the Sagarmatha Pollution Control Committee (www.spcc.org.np) have developed a pilot test of this initiative.
Just at the exit of Namche, they set up a small station of packing and picking up of bags filled by pressed metallic and plastic waste, that people going down to Lukla could take away. A team of people and very understandable banners informed everybody on this initiative.
The answer, according to the organisers, the test exceeded their expectations from the beginning. They had prepared 1,000 bags, hermetic and easy to hang in the backpacks, thinking that they would be enough for the Namche – Lukla – Namche rotation as people were carrying them down. Soon, however, they realised that were not enough and this forced them to increase the frequency of the return trips of the bags from Lukla to Namche.
During the days the test lasted, more than 2,500 people trekked from Namche to Lukla and more than 5,000 bags of waste were taken, which means an average of just over two bags per person. The record is hold by a person who took 14!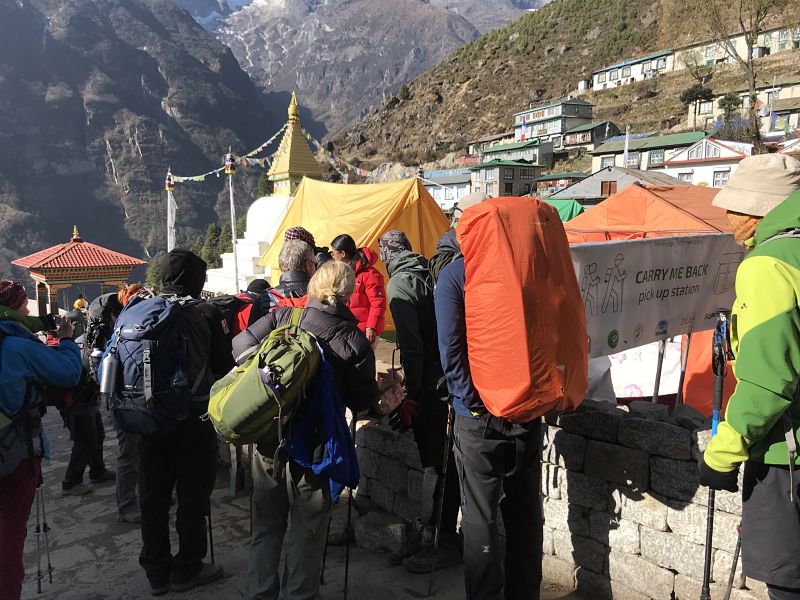 According to the manager of the Sagarmatha Next project, this confirms the good welcome of the CARRY ME BACK proposal and for the next season, in the spring 2020, they envisage definitive implementation, extending transportation to Kathmandu.
This initiative takes an important step in the direction of not increasing the ecological footprint of our tourist activity. A good example of how to make people aware of not leaving any waste where there is no treatment or recycling system.